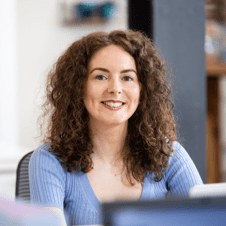 Eleanor Harms
Senior Commercial Manager – Business Development
Eleanor works across a range of client accounts. On a typical day, she can be found leading on the delivery of work and forging great client relationships, as well as playing a key role in content production and strategic planning.
Eleanor's background
Cambridge graduate Eleanor has worked in technical B2B agencies for the past nine years across a multitude of sectors.
From pharma and life sciences to construction and professional services she has a wide range of experience. A Spanish and Italian speaker and qualified translator, she has a real passion for language and communication. These skills come in handy on a daily basis when working to deliver impactful copy and top-notch account management for clients.