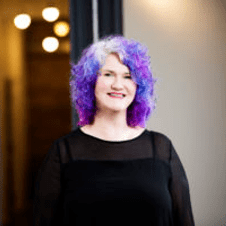 Emma Banks
Chief Executive Officer
As ramarketing's CEO, Dr. Emma Banks oversees the entire business from our Newcastle headquarters in the North East of England. Emma leads the agency's vision and strategy and alongside client and employee experience. Her main focus is on developing a data-driven value creation plan to support our continued growth. A key goal is to make sure the time spent with ramarketing, whether you are working with us or for us, is exceptional.
Emma's background
After completing her Ph.D. followed by two years of Postdoctoral Research, Emma joined a small biometrics CRO, latterly supporting the leadership of the data management team.
Prior to joining ramarketing, Emma ran an international life sciences software company.
In 2019, Emma joined ramarketing as Managing Director to support the agency to scale by putting in place a solid and successful infrastructure for people development, client experience, commercial opportunities, and developing a strong leadership team. In 2022 she was promoted to CEO following private equity investment from NorthEdge.
Having been a Board Member of the Society of Clinical Data Management (SCDM) Emma was Conference Co-chair for its Annual Conference in the USA, having developed a strong reputation across the industry. A seasoned conference speaker, Emma's insights have been covered nationally and internationally at Biofocus and Precision Medicine conferences in the UK and SCDM in Europe and the US.
An advocate of both the life sciences sector and the North East of England, Emma is a Non-exec Director of Bionow, a life sciences membership organization. Through this work, Emma aims to foster a more joined-up bioscience community, as well as raise the profile of the North East as a biotech hub. Her willingness to dedicate time to developing the organization and sector is highly valued.
Emma's current focus is on developing ramarketing's value creation plan built around our ambition to be more than a marketing agency to our life sciences clients - going beyond the traditional marketing qualified lead and making an impact that can be measured in a truly commercial way.
Emma is instrumental in driving the areas that will add the most value both to our clients, our business, and to our wider stakeholders - things like data, customer success, operational effectiveness, and service proposition development.
As CEO, Emma is the guardian of the 'ramarketing way' - our values, how we operate as a business, how we recruit and retain our people and how we approach clients and work with them. All of which are driven by the entrepreneurial spirit that remains at our core.